Training in sections is essential for Trial. It sounds obvious, but in my experience it is actually the hardest thing for new riders – be they young or old.
The answer is probably found in the fact that it is easier (and not quite as demanding) to ride around "leisurely" outside the sections. You can practice and get better by riding around the areas a little, by riding up and down the hill a few times, by riding over a rock or a root – but the rider is not really under pressure and testing him – or herself – until riding through a section.
Let's start by defining what a Trial section is.
A section is defined as a measured route, marked with ribbon on each side of the section. The section has a definite start and an end. The rider must attempt to make it through the section without touching the ground.
The difficulty of the section is determined by how many elements the section builder includes in the section. An element could be a turn, height differences, rocks, tree logs or things like that.
Regardless if you are building for children or adults, it is important not to include too many elements.
Keep in mind the skill level of the riders who will use the section and build it according to their level.
Advice for Trial section building.
Define the direction of travel in the section (start and end) – and specify this for the riders (and their parents).
Be careful not to use too many elements – don't make the section too difficult.
Build sections that can be completed with 0 points (without touching the ground) – we want the child to achieve a feeling of success.
Slowly, build more and more elements, as the rider (the child) gets better.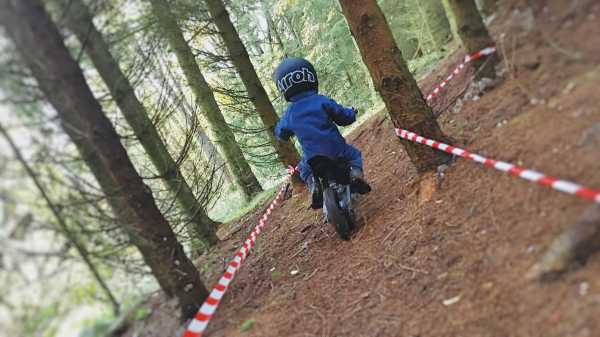 As described above can a section include different elements. In the article Turning – type and possibilities, you might get some ideas on how to include one of the more basic of the kind – the turn.
"Only one rider in the section at a time. Wait for your turn"
Keep in mind that in the beginning most new riders will be challenged plenty just by riding through a section without elements. Just having to ride between 2 ribbons, often with trees, branches, and rocks for the rider to navigate around – will be a challenge for many.
Therefore, patience is a virtue – also for the coach!