We all hope we never need it. Still, it is an advantage to have a well-stocked first aid bag when riding Trial. In this article we will tell what we bring along and why.
I've always had a first aid bag with me, when I was out training or riding a motorcycle race.
It has not been different whether it was riding Enduro, Motocross, Trial or Roadrace.
It has been the same first aid bag that has been with me on all the different riding experiences.
Our first aid bag is placed in the car that is normally parked in pit area, and it is therefore not carried with us when in the sections.
Since Trial in Denmark is often run in smaller areas, we are always close to Park Ferme. If you ride with longer distances to Park Ferme, this should of course be taken into account when choosing where to place your first aid kit.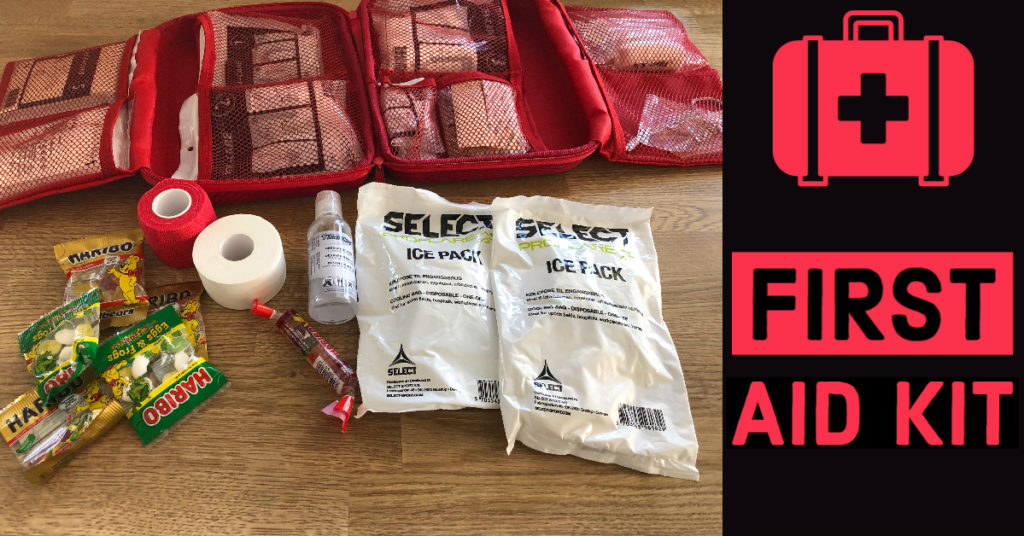 What's in our first aid bag?
I will try to describe what we have packed in our first aid bag, and the reason for us to pack it.
As I have written before, it has not changed in terms of what motorsport I/we have practice, but there are a few additions aimed at the participation of children in training and races.
It is a good idea to start with one of the first aid kits that you can buy in various stores. Many of these kits have a most of the stuff that we have listed, and you can then supplement what is missing.
• Saline ampoules for rinsing eyes.
• Various band aid in different sizes.
• Bandages in different lengths and models
• Powerful scissors that can be used to cut into bandages and (if necessary) clothing.
• Safety pins for bandages
• Tweezers in metal
• Sling for making an armsling.
• Disposable gloves
• Aluminum blanket to keep an injured person warm.
• Sports tape – elastic type (kinesio tape). This type can be used when making compression bandage.
• Sports tape – common type. This type can be used to make preventive support at joints or where "ordinary" tape is used.
• Hand sanitizer
• Ice packs – preferably single use icepacks.
• Winegums or other candy. Ever since we started to have children with us for race and training, a little candy is packed in our first aid bag.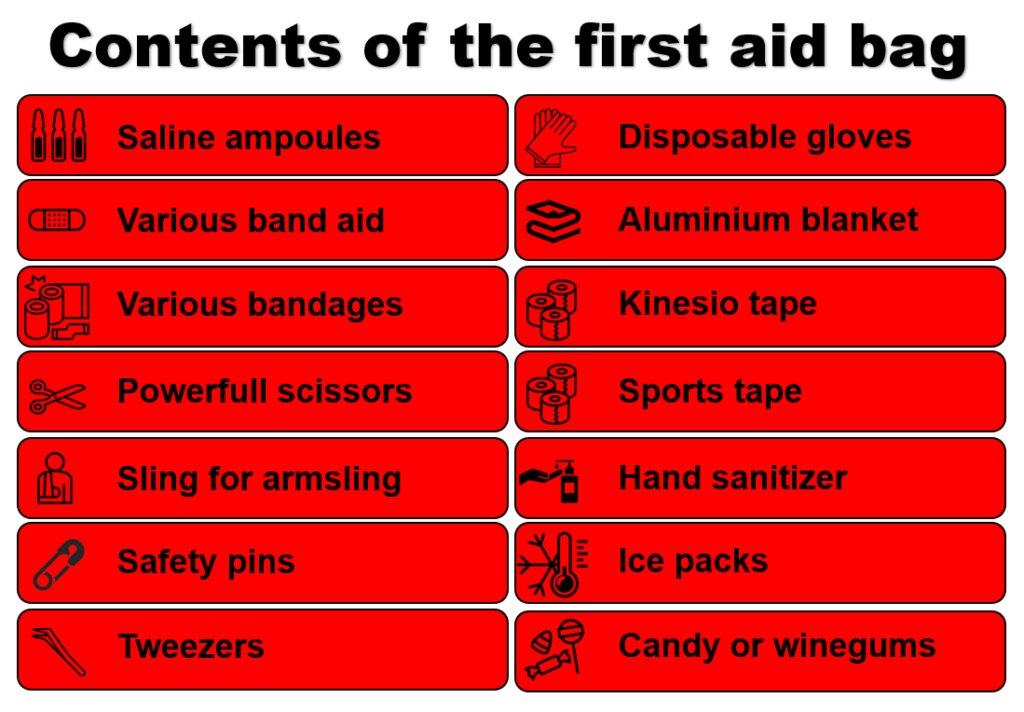 Winegums as First Aid?
Winegums – or just a little candy in general – can be used in 2 ways.

Of course, the obvious is that you can give a piece of candy when an injury has occurred. Often, a small piece of candy will be able to get the Childs focus away from what has just happened, and often relieve some of the pain.

The other way sweets can be used is as a "litmus" test.
It can be a way of assessing the extent of the injury – of course together with the normal first aid for sports injuries, the PRICEM method.
It is my experience that if the injury, and thus the pain, is sufficiently great the child does not want to receive sweets, or it does not have a "soothing" effect. Of course, it does not work for all children, but I can clearly recommend you try it if it works for you.
Review of the bag regularly.
Fortunately, it's not often that we need the first aid bag. As re result it is important that we regularly check the contents of the bag. We do this to ensure that the various items in our first aid kit still work or are within durability.
Do it as part of your normal maintenance ritual, e.g. every 3 months.
How about first aid for Trial?
A first aid bag is not worth much if first aid cannot be provided. In addition to regular first aid, there are things you can benefit from when it comes to sports injuries. Since that is such a big topic, we have chosen to describe this in a separate article.
Did we forget something? Do you have something you pack in your first aid kit that we do not have on the list?
Write to us, because we want to hear about your tips, and on what is missing from our first aid kit. Contact us at info@juniormoto.com