There is no formula for what constitutes good coaching and how best to train your child. It depends who is the coach and who is the trainee – and sometimes it depends on the day and the mood. However, there are things that have worked well for us, which I would like to pass on.
Focal points
I have always used a focal point during my own training. Before starting a pass on a racetrack, or perhaps in a Trial section, I have decided on what to focus on training. This can be applied directly to the training of others – including the training of children.
A focal point may be general or specific.
General focal points may be what we want to get out of the training day or training pass. What would we like to have accomplished after completing training?
Specific focal points are more detailed, for example, where should the rider turn, when to brake, foot position, gas control, weight placement, etc.
Focal points are NOT agreements, but intentions! Small children cannot enter into agreements – they simply do not understand the concept of an agreement!
Overall focal point
Before we start training, we will usually always have a talk about what the day's overall focal point should be. This takes place either during breakfast, or in the car on the way to the training. It is not a sophisticated conversation, just a talk about what we should try to focus on.
For example, maybe we want to do turn techniques.
There are several advantages to having an overall focal point.
It helps to get the child into a training mood.
That is, we have already started focusing on task ahead (riding Motorcycle), so we do not need to have that conversation when we unpack the machine.
It makes it easier to get back to the topic we had for the day.
In essence, a child's focus may be difficult to hold, and in my experience, it may be easier to focus once we have agreed what we are going to focus on.
It is easier to show the child progress.
An overall focal point means that we work on the same thing several times during the training. Normally, this will cause progress in the rider's level for this particular skill, thus making it easier to show progress for the child. This helps to strengthen his or her self-esteem, and the desire to start on a new skill.
Having an overall focal point does not necessarily mean that the child is able to focus on it during the training, so do not give up if the child cannot concentrate. If necessary, try again at the next training session or set a more obtainable focal point.
Specific focal points
You decide the specific focal points before the rider starts a training exercise or a training pass. It may be that in this closed training exercise we will focus on foot position or on when to get on the throttle.
Therefore, you give instructions about the focal point before starting the exercise.
In general, it is important to make the focal points attractive. So, if the child does not follow the focal point, it is often because the focal point (goal) is not attractive enough.
Do not give up on the focal point, but instead try to reformulate it and make it more attractive for the child to reach.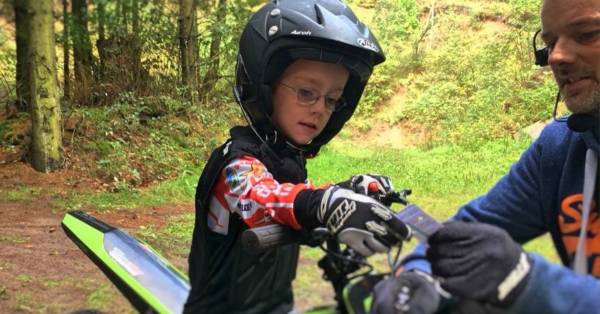 Training capacity
The term training capacity covers the capacity a rider has available in a training situation. Whether you are dealing with adults or children, the term is the same, but obviously the capacity is different.
I first became acquainted with the concept when I read the "Twist of the Wrist" by Keith Code. It is actually very elementary and can be defined as how you use the rider's capacity.
Think about it like how to spend your $10!
If that sounds strange, please allow me to explain. If your child's training capacity is $10, then you need to consider how to spend it. The more focal points you put into a training, the fewer dollars you can spend on each focal point.
An adult, or for that matter an older child, may choose to use more capacity for certain focal points than for others – but a smaller child does not necessarily know how to do that!
An adult rider (or an older child) may choose to spend $5 on standing on the motorcycle, $2 on braking, $2 to look the right way, and $1 to steer the motorcycle – a total of $10.
A smaller child does not have this capability, and therefore cannot control how much capacity they used at each task. Therefore, I would recommend having very few focal points at a time – optimally just a single one.
It is important to establish that ALL riders are different, and you must keep this in mind when using these techniques.