Let's just be honest. It aches to get junior on the motorcycle, and watch them twist the throttle for the first time. However, my experience is that it is really important that they are ready for the motorcycle before their first time, otherwise give the development a setback. ?
Start on a bike.
That's why it's important that your child can handle 2 wheels first. In my optics, training wheels on bicycles or motorcycles are a total "NO GO", and only help to inhibit the child's motor development. Training wheels provide a false balance, and therefore it will take even further time for you kid to obtain the required balance. If the child can balance a running bike, the transition to a motorcycle is not quite as big.
But lets say that we have reached that point – the child can control, brake and balance on a Push Bike so we're ready to take them to the next stage.
I would therefore like to give you some good advice that has worked well for us.
Provide space.
It may seem very elementary, but it should be mentioned anyway. When your child is going to ride for the first time, it is important that you choose a safe area with plenty of space. There should be no elements that interfere with the child's concentration, such as trees, cars or other people they can drive into. A large open lawn like a sports ground or the like is optimal.
If possible, set up some cones in a large square, which you ask the child to stay within, with a good runoff space. That way, there is no hindrance for the child, to maintain focus.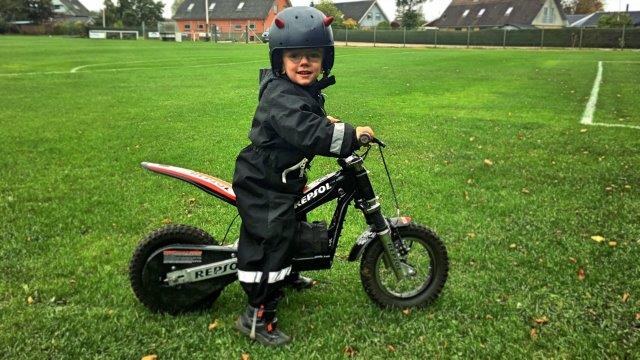 Start alone.
It may be tempting to start with other children or with more adults present.
However, it might be an advantage if you keep it simple, with as few disturbing elements as possible. My recommendation is that you are your kid. This help your child maintain focus.
Children together at this stage can be dangerous, as we cannot yet expect them to have the skills to slow down and control the bike. It is generally known that you ride towards what you are looking at, and your kid is likely to look at the other riders. There is also a mental element, in the fact that we tend to measure our own (or our children's progress) relative to that of others. That might get you to push your kid unnecessary on this early stage.
Baby steps.
Take it easy, you'll get to it!
When you see how much your child suddenly can, it may be incredibly tempting to push the child too much and too fast. Therefore, I would recommend that you take care not to go too fast.
Set small sub goals and celebrate together when you reach them. One of the big mistakes I have often seen, is to set the speed on the bike to high. Keep in mind that what we want, is to teach the child the concentration, balance and the motor skills needed to ride a motorcycle (steering, brake and gas control). Speed ​​is notoriously diminishing the goal of learning this. Therefore, do not increase the speed before your kid masters these properties.
It may be a good idea to make the training sessions short, for example 15 minutes, but more often. That way neither you nor your child get tired of riding, and there is a greater chance of success.
This phase may take a short or long time. Some children catch it right away, while others need to spend longer time for themselves. The best person to assess when they are ready to come out in the "real world" are you!
However, my experience is that it is really good to work on this stage for a long time, thus giving the child the assurance and self-confidence needed to achieve further success.