When do we start the child in Trial?
There is no right answer, because it differs from child to child. However, it is my opinion that it is best to start on two wheels WITHOUT motor first. For most children this will provide a more natural approach to having to keep balance and coordination, while on the same time getting used to receiving information from the parents! At the same time our son took his first hesitating steps, we presented him to his first walkbike (Learner bike).
Well probably not a two-wheel model, but a four wheel one. This quickly created confidence in own abilities on a bike, and therefore it did not take long before we introduced him to a two wheel model.
Pay attention to the wheelbase (distance between wheels), a longer wheelbase provides better stability, and thus makes it easier to keep your balance. While making wider wheels it also easier to keep your balance.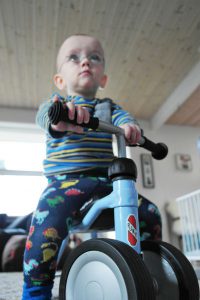 Lets move outside.
The first big step comes when being purchased a real pushbike. A pushbike is the perfect way to continue working with the experiences the child has while riding the walkbike. With the pushbike larger dimensions, comes the possibility of greater momentum and speed. That is also, why it is important that the child has learned balance and motor skills already on walkcycle.
The pushbike's higher speed makes it natural to go outside, with the pleasures and challenges that come with it. This also introduce a new element to the kid – the helmet!
There are a myriad of pushbike models on the market, but it is worth to look for before investing.
Make sure the low seat height (adjustable) and large wheels. It create better stability of the bike, making it easier to move and turn – especially when used in terrain. One of the better producers of pushbikes is Strider Bikes, available in a host of different models.
Are we training Trial?
With the pushbike comes also the possibility to "train" with the child.
You cannot train a child of 2 years, but you can play with them in a way that supports specific behaviour. For example, it is a good idea to teach the child that the message "stop", means that they have to stop the bike (not brake).
Keep in mind that children in this age group do not understand a message I the way an older child would. Therefore, you have to use the "repeat after repeat" method, backed up with incredible amounts of praise when you have achieved the desired behaviour.
Do not despair when all is forgotten after five minutes – that normal.
Keep in mind that the game should be on your child's premises, and in the speed at which they are ready for it!